Vancouver, B.C. – July 25, 2023 - Pacific Ridge Exploration Ltd. (PEX: TSX Venture; PEXZF: OTCQB) ("Pacific Ridge" or the "Company") is pleased to announce that it is increasing the size of the diamond drill program at its 100% owned Kliyul copper-gold project ("Kliyul" or the "Project"), located in the prolific Quesnel Trough in north-central British Columbia, from 7,000 m to 9,000 m. This will be the largest ever drill program to take place at Kliyul.
The Company is reallocating the Chuchi copper-gold project ("Chuchi") 2023 exploration budget ("Chuchi Budget") to fund the expanded drill program at Kliyul. The 2023 B.C. wildfire season is already the worst on record and the planned 2,000 m diamond drill program at Chuchi had to be cancelled due to fires - an Area Restriction order is in place for the Nation Lakes area, where Chuchi is located. While most of the Chuchi Budget will be reallocated to Kliyul, the Company plans to use some of it for an Induced Polarization ("IP") survey at the Onjo copper-gold project ("Onjo"), which adjoins the western boundary of Centerra Gold Inc.'s ("Centerra") (TSX: CG) (NYSE: CGAU) Mount Milligan Mine (See Figure 1 for a location map).
The RDP copper-gold project ("RDP"), under option to Antofagasta Minerals S.A. ("Antofagasta"), a wholly owned subsidiary of Antofagasta PLC (ANTO: LSE), is unaffected by fires and the planned 1,800 m diamond drill program is expected to commence in August.
"Although fires prevented us from drilling Chuchi, reallocating the Chuchi Budget for an expanded drill program at Kliyul dramatically increases our chances of success this year," said Blaine Monaghan, President & CEO of Pacific Ridge. In addition, we can further advance Onjo, which has excellent potential for the discovery of an alkalic porphyry copper-gold deposit."
Figure 1
Location of Kliyul, Chuchi, Onjo, and RDP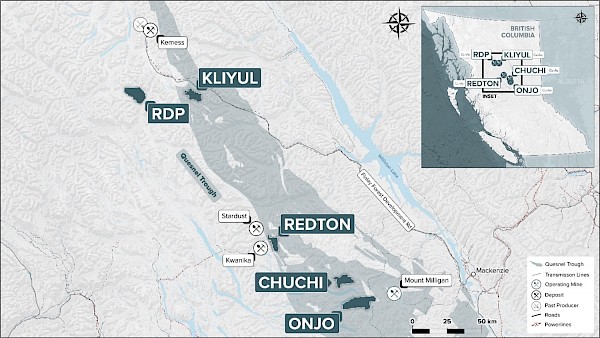 2023 Kliyul Drill Program Update
Two diamond drill rigs are on site and Pacific Ridge has completed 3,160 metres of the planned 9,000 m drill program.
The two main objectives of this year's drill program at Kliyul:
Test for extensions of the Kliyul Main Zone to the southeast and into adjacent fault blocks to the north, east and southwest (see Figure 2). These targets are defined by known mineralization from previous drilling combined with modelled geophysical signatures, including a Magnetic Vector Inversion (MVI) aeromagnetic high anomaly with coincident resistivity- and chargeability-high anomalies; and,
Test several high priority targets that occur mainly along the Divide Lake Fault Trend, a highly prospective 6-km-long northwest-trending alteration and mineralization corridor, including Ginger (1.4 km northwest of KMZ), Parish Hill (1 km southeast of KMZ), M-39 (3.5 km southeast of KMZ), and Ginger South (1.2 km west of KMZ), which occurs along the east-northeast Valley Fault Trend (see Figure 3). These targets are interpreted porphyry centres derived from aeromagnetic data and MVI modelling, IP survey inversions, geological mapping, and surface geochemical sampling.
Figure 2
Plan View of KMZ, Kliyul West, Kliyul North and East Wedge with 38-Hectare Magnetic Vector Inversion (MVI) Anomaly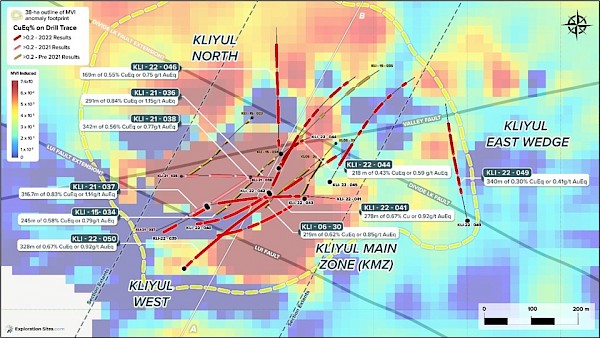 Figure 3
Kliyul Targets with RMI Aeromagnetics and the 2023 Proposed Drill Holes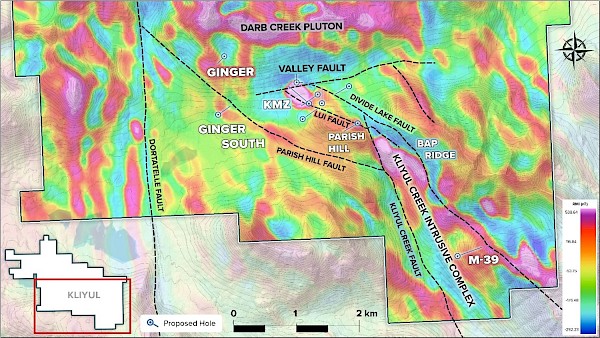 Onjo Copper-Gold Porphyry Project
100% owned by Pacific Ridge, Onjo adjoins the western boundary of Centerra's Mount Milligan Mine and has exploration targets that are within 16 km of the processing plant. Onjo is over 12,350 hectares in size and can be accessed via a network of forestry roads.
Pacific Ridge's 2022 exploration program at Onjo identified three new porphyry copper-gold targets (see news release dated December 13, 2022): Gingla, Chica, and Yazi zones. These targets are defined by ZTEM conductivity and aeromagnetic features, surface geochemistry and geological mapping (Chica). All three target zones are aligned along an interpreted ENE-trending cross-arc structural linear (Heidi Lake Trend) that extends westward from the open pit at Mount Milligan (MBX Main zone) through the western brownfield mine expansion area, and then continues westward through the Heidi greenfield target at Mount Milligan and onto Onjo (see Figure 4).
Onjo hosts skarn occurrences and alkalic porphyry copper-gold mineralization associated with dioritic to monzonitic phases of the Witch Lake Diorite ("WLD") pluton, a satellite pluton of the Hogem batholith and plutonic suite which lies 6–10 km to the northwest. The WLD pluton spatially coincides with a large (9 x 3.5 km) east-southeast trending Total Magnetic Intensity (TMI) aeromagnetic high anomaly that underlies Late Triassic to Early Jurassic volcanic rocks of the Takla Group and Chuchi Lake Succession and crosses an interpreted unconformity between these two host successions. The primary exploration target, the Chica zone, lies at the southeastern margin of this magnetic high anomaly where it occurs with the Early Jurassic host rocks and is less than 2 km from the unconformity. It should be noted for comparison that the nearby Mount Milligan porphyry Cu-Au deposit is Early Jurassic in age and lies at the southern margin of a large (11 x 3.5 km) north-northwest trending aeromagnetic high anomaly.
Figure 4
TMI Aeromagnetic Map of Onjo. Also Shown is the Inferred Arc-Transverse Heidi Lake Trend Extending Westward from the Mount Milligan Mine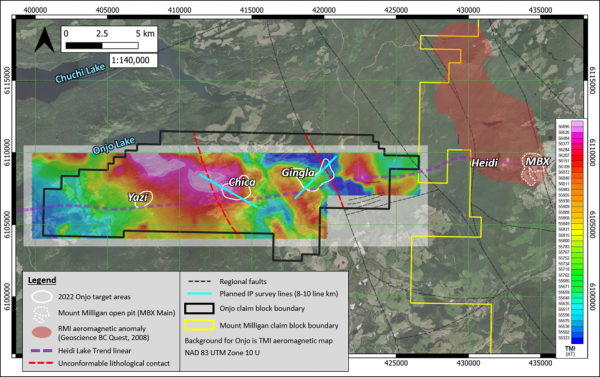 2023 Onjo Exploration Program
2023 exploration at Onjo will comprise up to 10 line-km of IP geophysical survey in two reconnaissance lines (4-5 line-km each) across two target areas, Chica and Gingla:
One IP line will be run across the Chica target area where 2022 mapping identified a crowded plagioclase monzodiorite porphyry that is quartz-sericite and locally K-feldspar and actinolite altered with trace chalcopyrite (up to 1320 ppm Cu); surface sampling of rocks returned an 800 x 500 m multi-element porphyry pathfinder anomaly.
A second IP line will be run across the Gingla target area which has similar scale and basin-edge relationship as the historical MBX Main zone at Mount Milligan, now the open pit. The Gingla target features a shallow-to-deep (360 Hz to 30 Hz) continuous ZTEM conductivity anomaly with anomalous porphyry pathfinder geochemistry in historical and recent surface rock sampling despite there being an obscuring blanket of till overburden.
The style of copper-gold mineralization returned in historical drilling, combined with the presence of nearby skarn occurrences, leads Pacific Ridge to believe that past operators at Onjo encountered the upper and/or peripheral levels of an alkalic porphyry system, and that this may be a moderately eastward tilted system like the Mount Milligan silica-saturated alkalic porphyry Cu-Au deposit. As such, there is excellent potential for the discovery of a similar type of porphyry deposit.
2023 RDP Exploration Program
Drilling in 2022 produced the best-ever drill result from RDP. Drill hole RDP-22-005 at the Day target returned 107.2 m of 1.45% CuEq (0.63% Cu, 1.10 g/t Au, and 2.91 g/t Ag) within 497.2 m of 0.68% CuEq (0.37% Cu, 0.40 g/t Au, and 1.6 g/t Ag)1. 2023 exploration plans include 1,800 m of diamond drilling, a 16 line-km IP survey at the Day, Porcupine, and Bird targets, rock sampling at the Porcupine target, and soil sampling at the Bird target (see Figure 5).
Figure 5
RDP Targets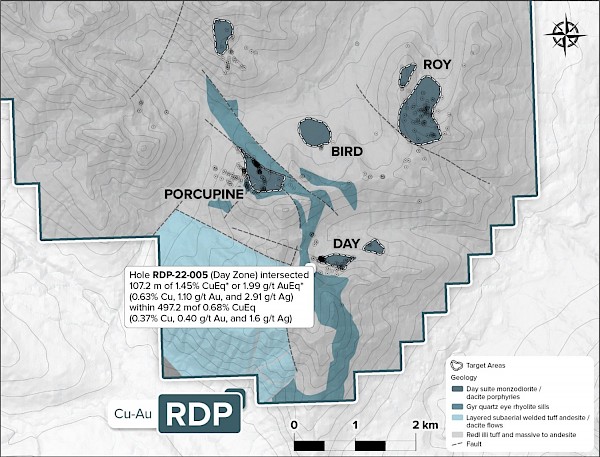 The 2023 exploration program is being funded by Antofagasta who can earn a 75% interest in RDP by spending $10,000,000 on exploration over eight years and delivering a preliminary economic assessment report (see news release dated February 8, 2022). Pacific Ridge is the operator and will support the program from the Kliyul camp, located 40 km to the east. Drilling is expected to commence sometime in August.
About Pacific Ridge
Our goal is to become British Columbia's leading copper-gold exploration company. Pacific Ridge's flagship project is its 100% owned Kliyul copper-gold project, located in the Quesnel Trough close to existing infrastructure. In addition to Kliyul, the Company's project portfolio includes the RDP copper-gold project (optioned to Antofagasta Minerals S.A.), the Chuchi copper-gold project, the Onjo copper-gold project, and the Redton copper-gold project, all located in British Columbia. Pacific Ridge would like to acknowledge that its B.C. projects are located in the traditional, ancestral and unceded territories of the Gitxsan Nation, McLeod Lake Indian Band, Nak'azdli Whut'en, Takla Nation, and Tsay Keh Dene Nation.
On behalf of the Board of Directors,
"Blaine Monaghan"
Blaine Monaghan
President & CEO
Pacific Ridge Exploration Ltd.
Corporate Contact:
Blaine Monaghan
President & CEO
Tel: (604) 687-4951
www.pacificridgeexploration.com
https://www.linkedin.com/company/pacific-ridge-exploration-ltd-pex-
https://twitter.com/PacRidge_PEX
Investor Contact:
G2 Consultants Corp.
Telephone: +1 778-678-9050
Email: ir@pacificridgeexploration.com
1CuEq = ((Cu%) x $Cu x 22.0462) + (Au(g/t) x $Au x 0.032151) + (Ag(g/t) x $Ag x 0.032151)) / ($Cu x 22.0462)
Commodity prices: $Cu = US$3.50/lb., $Au = US$1,750/oz., and Ag = US$20.00/oz.
Factors: 22.0462 = Cu% to lb. per tonne, 0.032151 = Au g/t to troy oz per tonne, and 0.032151 = Ag g/t to troy oz per tonne.
Recovery is assumed to be 100% - there has been no metallurgical testing on RDP mineralization
Neither the TSX Venture Exchange nor its Regulation Services Provider (as that term is defined in the policies of the TSX Venture Exchange) accepts responsibility for the adequacy or accuracy of this release.
The technical information contained within this News Release has been reviewed and approved by Gerald G. Carlson, Ph.D., P.Eng., Executive Chairman of Pacific Ridge and Qualified Person as defined by National Instrument 43-101 policy.
Forward-Looking Information: This release includes certain statements that may be deemed "forward-looking statements". All statements in this release, other than statements of historical facts, which address exploration drilling and other activities and events or developments that Pacific Ridge Exploration Ltd. ("Pacific Ridge") expects to occur, are forward-looking statements. Forward looking statements in this news release include the planned 9,000 m drill program at Kliyul, the 1,800 m drill program at RDP, and the IP survey at Onjo. Although Pacific Ridge believes the expectations expressed in such forward-looking statements are based on reasonable assumptions, such statements are not guarantees of future performance and actual results or developments may differ materially from those forward-looking statements. Factors that could cause actual results to differ materially from those in forward looking statements include market prices, exploration successes, and continued availability of capital and financing and general economic, market or business conditions. These statements are based on a number of assumptions including, among other things, assumptions regarding general business and economic conditions, that one of the options will be exercised, the ability of Pacific Ridge and other parties to satisfy stock exchange and other regulatory requirements in a timely manner, the availability of financing for Pacific Ridge's proposed programs on reasonable terms, and the ability of third party service providers to deliver services in a timely manner. Investors are cautioned that any such statements are not guarantees of future performance and actual results or developments may differ materially from those projected in the forward-looking statements. Pacific Ridge does not assume any obligation to update or revise its forward-looking statements, whether as a result of new information, future events or otherwise, except as required by applicable law.