Vancouver, B.C. – May 25, 2023 - Pacific Ridge Exploration Ltd. (PEX: TSX Venture; PEXZF: OTCQB) ("Pacific Ridge" or the "Company") is pleased to announce the Company's 2023 exploration plans for its 100% owned Kliyul copper-gold porphyry project ("Kliyul"), located in the prolific Quesnel Trough in northcentral British Columbia (see Figure 1). The exploration program will have two main objectives, 1) to expand the size of the Kliyul Main Zone ("KMZ") mineralized body to the southeast and into neighbouring fault blocks (see Figure 2), and, 2) testing several high priority targets that occur along the Divide Lake Fault Trend, a highly-prospective 6-km-long alteration and mineralization corridor (see Figure 3).
"I have high expectations for this year's drill program at Kliyul," said Blaine Monaghan, President & CEO of Pacific Ridge. "Our technical team, Executive Chairman Dr. Gerry Carlson, Vice President of Exploration Danette Schwab, and Chief Geologist Paul Jago have done a fantastic job further developing our knowledge and understanding of Kliyul, which will be the key to unlocking its tremendous potential. I believe that the results from this year's drill program will be an inflection point for the Company.
Pacific Ridge will utilize two diamond drill rigs and plans to drill a minimum of 7,000 m expanding the size of the KMZ mineralized body and testing other targets. The program is fully funded, budgeted at $4.6 million, and the Company expects drilling to be underway by the end of June.
Figure 1
Location of Kliyul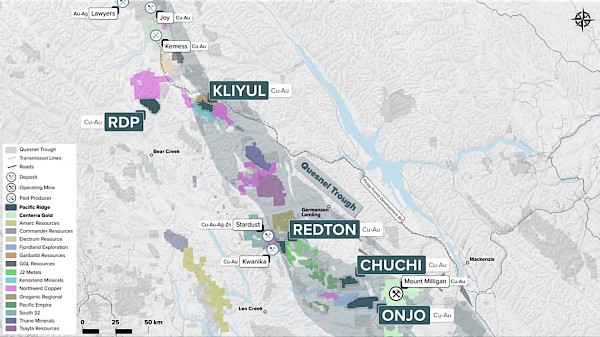 Figure 2
Plan View of KMZ, Kliyul West, Kliyul North and East Wedge with magnetic vector inversion (MVI) amplitude magnetics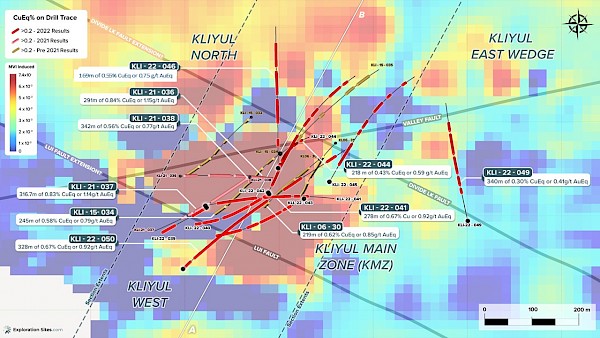 Figure 3
Other targets at Kliyul : Ginger, Parish Hill, Bap Ridge, and M39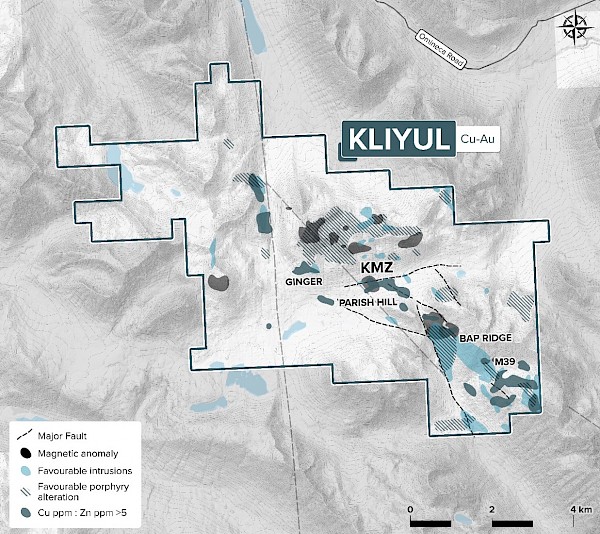 Recap of the 2022 Exploration Program at Kliyul
Pacific Ridge's 2022 exploration program consisted of diamond drilling (7,014.7 m in 12 drill holes), Induced Polarization (IP) survey (27 line-km), high-resolution heli-borne magnetic and radiometric survey (423 line-km), MVI modelling of aeromagnetic survey results, LiDAR survey (257.5 line-km), porphyry footprints geochemical modelling, geological mapping and surface sampling (rock), and continued baseline water sampling.
Key accomplishments of the 2022 exploration program include the following:
The 2022 drilling campaign materially increased the size of the KMZ mineralized body to approximately 600 m (E-W) x 350 m (N-S) x 600 m vertical depth from approximately 350 m (E-W) x 150 m (N-S) x 500 m vertical depth;
Drilling confirmed that the KMZ is not bounded by faults on any side and mineralization remains open in every direction and at depth;
Drilling confirmed the existence of the modelled NW-striking Lui Fault which separates KMZ block from Kliyul West block and confirmed that the WSW-striking Valley Fault zone has a Late Triassic phase related to mineralization and veining;
Broad step-outs to the west and east along the Valley Fault corridor confirmed the system centred at KMZ extends for over 1.2 km along this trend before reaching the system edge, and that mineralization is structurally controlled within the Valley Fault zone;
Drilling confirmed that neighbouring fault blocks (Kliyul West, Kliyul North, East Wedge) to the KMZ block have chlorite-sericite alteration and associated mineralization suggesting these blocks are downthrown several 100 m relative to the central KMZ block, and that these blocks have good preservation potential for different segments of a larger porphyry deposit;
Drilling in the Kliyul North zone is providing new information on deposit scale geology and attitude of geological features, including dyke and vein orientations, providing key marker units in geological modelling which will aid in resolving if the porphyry system has been tilted post-mineral; and
Drilling in Kliyul West has provided a vector to distinctively higher Cu:Au ratio in mineralization which increases to 1.5 in Kliyul West versus 0.25-0.50 in the KMZ, and porphyry footprints modelling has suggested a porphyry core to the west or southwest of KMZ.
See Table 1 for 2021 and 2022 drilling highlights.
2023 Drill Hole Planning
The planned 2023 drilling program at Kliyul will total 7,000 m in at least 12 drill holes.
KMZ Drill Holes
A minimum of seven drill holes (over 4,000 m) are planned to expand the size of the KMZ mineralized body into neighbouring fault blocks Kliyul West, Kliyul North, and East Wedge (Figure 2).
At least three drill holes will be collared within KMZ, considered to be a high-standing block, and drilled into neighbouring downthrown fault blocks at depth, allowing for continued infill and expansion of KMZ block mineralization (currently about 400 m x 200 m and 450 m depth at 0.40% CuEq), which remains open to the east and southeast within the KMZ block.
In Kliyul North, drilling will test a deep MVI (Induced) magnetic high anomaly below 400 m depth, with similar signature as KMZ, and with coincident high resistivity and chargeability to 400 m depth. Drilling will be in areas without any historical drilling below 150 m vertical depth. Additionally, drilling will test for a northern extension of mineralization intersected in KLI-22-046 following a moderately south-dipping coincident magnetic-resistivity-chargeability high geophysical feature north of Valley Fault that is roughly 600 m x 300 m and 150 m in thickness.
In Kliyul West, drilling will test for continuation of high Cu:Au ratio mineralization intersected in KLI-22-043 to the southeast and below 400 m vertical depth within the deep magnetic high (MVI Induced) anomaly. Drilling will step out 100 m to 350 m southeast of KLI-22-043 and KLI-22-050 along the Lui Fault corridor.
In East Wedge/Kliyul East, drilling will test for an extension of mineralization intersected in KLI-22-049 within a coincident magnetic-resistivity-chargeability high geophysical signature below 400 m depth.
Other targets
A minimum of four drill holes (over 2,300 m) is planned to test four satellite target areas of interest along the prospective 6-km-long Divide Lake Fault trend from the Ginger target in the northwest to the M-39 target in the southeast (Figure 4). This northwest trending corridor includes KMZ where it intersects the ENE-trending Valley Fault zone.
At the Ginger target area, drilling will test a coincident MVI Induced magnetic high and chargeability high feature to over 500 m vertical depth. The 2022 IP survey chargeability results suggest there may be a NE-tilted porphyry system underlying the western side of Ginger cirque where magnetite, biotite and sericite altered volcaniclastic rocks were mapped on surface in 2022, and where historical rock sampling returned >500 ppm copper.
A new target area called Ginger South lies 800 m south of Ginger and along the ENE-trending Valley Fault corridor, 1.3 km west of KMZ, where it intersects the NW-trending Parish Hill fault. Drilling will test a coincident RMI aeromagnetic high (150 m x 160 m), chargeability high, Cu-in-soil (>500 ppm) anomaly near a potentially important lithological contact in the volcaniclastic stratigraphy. Resistivity data suggests the target is at the inflection point of a syncline-anticline fold pair.
The Parish Hill skarn target is located where a Cu-sulfide-mineralized magnetite garnet skarn outcrop was mapped in 2021 proximal to the Lui Fault and the above-mentioned lithological contact. MVI (Induced) modelling suggests there is a moderately west-dipping 200 m x 150 m pipe shaped magnetic high feature that comes to surface in this area and expands into a large magnetic anomaly starting at 300 m depth with coincident resistivity high signature. Chargeability intensifies with depth. The target area is about 650 m southeast of planned Kliyul West drilling along the Lui Fault corridor.
The M-39 target area underlies a 450 m x 400 m RMI aeromagnetic high anomaly. Results from the 2022 IP survey indicate there is a large chargeability high feature (600 m x 500 m x 250 m) starting at about 400-500 m depth that has a steeply dipping pipe-shaped arm (150 m x 200 m) that approaches surface on its western side at the contact with the Kliyul Creek intrusive complex. A flat-lying resistivity high feature at 200 m depth may represent a lithocap above the main chargeability feature. Drilling will test the chargeability arm and continue to depth into the larger anomaly.
Figure 4
Target Zone Locations at Kliyul with RMI Aeromagnetics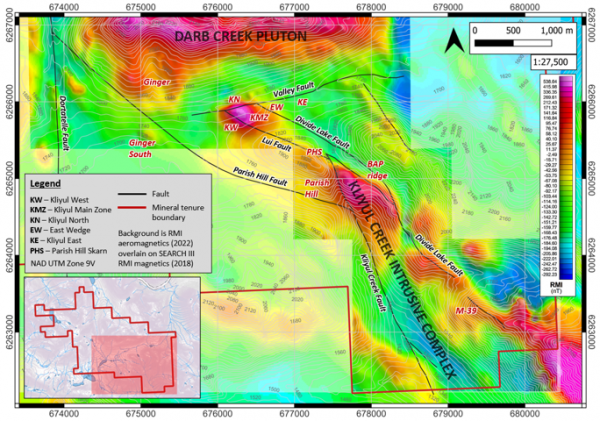 About Kliyul
Owned 100% by Pacific Ridge, Kliyul is over 60 km2 in size and is located in the prolific Quesnel Trough close to existing infrastructure. Kliyul comprises nine porphyry copper-gold targets along two main trends: the 1.5 km-long east-northeast Valley Fault Trend, which includes its five fault-defined target areas (Kliyul West, KMZ, Kliyul North, East Wedge, and Kliyul East); and the 6-km-long northwest-trending Divide Lake Fault Trend which includes Ginger, Parish Hill, Bap Ridge, and M-39 target areas.
Since 2020, Pacific Ridge has spent over $7.5M advancing Kliyul, including 8,557 m of drilling in 15 holes as well as geological, geochemical and geophysical surveys. Based on the exploration results to date, the Company believes that there is excellent potential to define a significant porphyry copper-gold system with multiple centres. Drilling at KMZ to date has defined a mineralized body measuring approximately 600 m by 350 m, and to a depth of 600 m; and geophysical data, including recent magnetic and IP surveys, suggest that this body can be expanded significantly.
Table 1
2021 and 2022 Kliyul Drill Highlights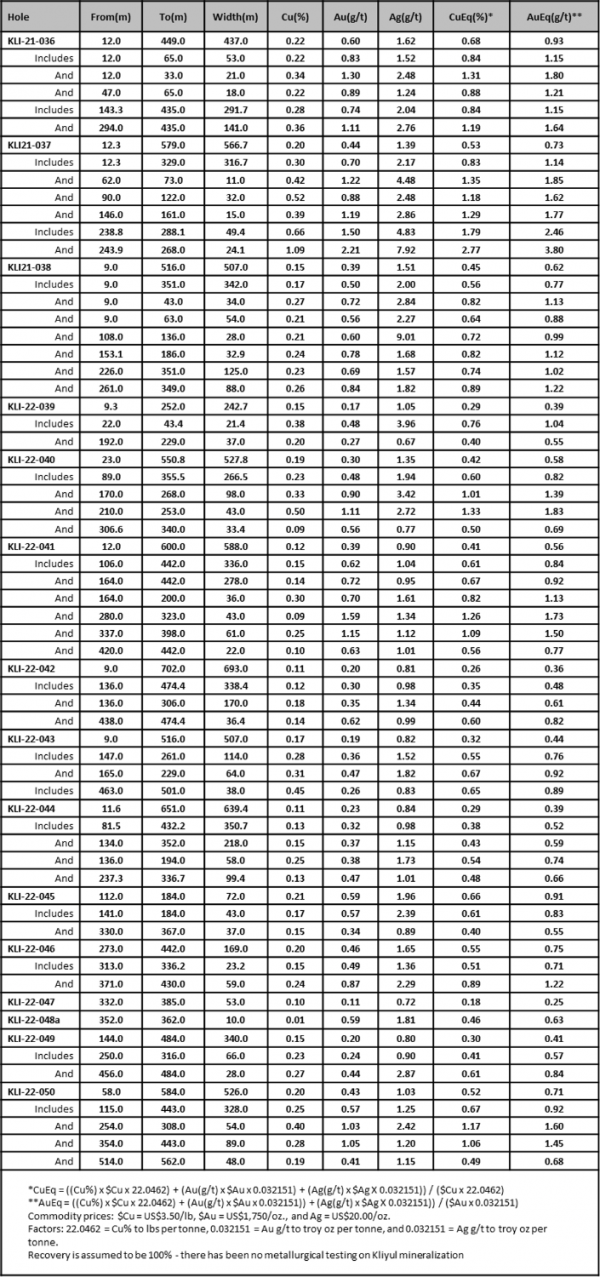 About Pacific Ridge
Our goal is to become British Columbia's leading copper-gold exploration company. Pacific Ridge's flagship project is its 100% owned Kliyul copper-gold project, located in the Quesnel Trough close to existing infrastructure. In addition to Kliyul, the Company's project portfolio includes the RDP copper-gold project (optioned to Antofagasta Minerals S.A.), the Chuchi copper-gold project, the Onjo copper-gold project, and the Redton copper-gold project, all located in British Columbia. Pacific Ridge would like to acknowledge that its B.C. projects are located in the traditional, ancestral and unceded territories of the Gitxsan Nation, McLeod Lake Indian Band, Nak'azdli Whut'en, Takla Nation, and Tsay Keh Dene Nation.
On behalf of the Board of Directors,
"Blaine Monaghan"
Blaine Monaghan
President & CEO
Pacific Ridge Exploration Ltd.
Corporate Contact:
Blaine Monaghan
President & CEO
Tel: (604) 687-4951
www.pacificridgeexploration.com
https://www.linkedin.com/company/pacific-ridge-exploration-ltd-pex-
https://twitter.com/PacRidge_PEX
Investor Contact:
G2 Consultants Corp.
Telephone: +1 778-678-9050
Email: ir@pacificridgeexploration.com
Neither the TSX Venture Exchange nor its Regulation Services Provider (as that term is defined in the policies of the TSX Venture Exchange) accepts responsibility for the adequacy or accuracy of this release.
The technical information contained within this News Release has been reviewed and approved by Gerald G. Carlson, Ph.D., P.Eng., Executive Chairman of Pacific Ridge and Qualified Person as defined by National Instrument 43-101 policy.
Forward-Looking Information: This release includes certain statements that may be deemed "forward-looking statements". All statements in this release, other than statements of historical facts, which address exploration drilling and other activities and events or developments that Pacific Ridge Exploration Ltd. ("Pacific Ridge") expects to occur, are forward-looking statements. Forward looking statements in this news release include the planned 7,000 m drill program at Kliyul budgeted at $4.6M, the potential for the KMZ mineralized body to continue growing, and the potential to define a significant porphyry copper-gold system with multiple centres. Although Pacific Ridge believes the expectations expressed in such forward-looking statements are based on reasonable assumptions, such statements are not guarantees of future performance and actual results or developments may differ materially from those forward-looking statements. Factors that could cause actual results to differ materially from those in forward looking statements include market prices, exploration successes, and continued availability of capital and financing and general economic, market or business conditions. These statements are based on a number of assumptions including, among other things, assumptions regarding general business and economic conditions, that one of the options will be exercised, the ability of Pacific Ridge and other parties to satisfy stock exchange and other regulatory requirements in a timely manner, the availability of financing for Pacific Ridge's proposed programs on reasonable terms, and the ability of third party service providers to deliver services in a timely manner. Investors are cautioned that any such statements are not guarantees of future performance and actual results or developments may differ materially from those projected in the forward-looking statements. Pacific Ridge does not assume any obligation to update or revise its forward-looking statements, whether as a result of new information, future events or otherwise, except as required by applicable law.